As MV Nautica visits Pulau Tioman on a regular basis, some of you might ask, what's the difference between the normal land trips and with an LOB.Out of the many reasons, the chance to visit further dive sites which will be hard to get to if you are diving from a resort. This time we have details of the little known Chebeh for you.
Dive site information for Chebeh, Pulau Tioman at a glance,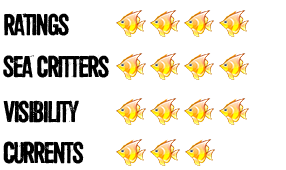 The island of Chebeh lies even further than Tiger Reef and all the other sites rarely visited by land resorts. There are a couple of dive sites littered around this little islet itself, and the one that will be dived is often decided based on the direction of the currents. Historic volcanic activities in the region have formed underwater canyons, which are so enormous that they make for excellent mini-wall dives! Scattered along the wall, large healthy fan corals have taken root and act as a good indicator of the intensity of the currents.
There are also many excellent swimthroughs all over the area just waiting to be explored! During the months right after and leading up to the monsoon season, you might even be lucky enough to catch a whale shark or manta rays on their migration route passing through the South China Sea. Currents are very common this far out but can be manageable on certain days if planned properly. Visibility is often great, with less divers visiting the area to silt up the area, and also less surface run off too. Depending on the site, Chebeh depths can range from 5m to 28m. Chebeh's underwater magic can be made accessible to any diver on board MV Nautica!