Apart from its luxurious coral architecture and it being the cradle of the sunken Igara ore steamship, Anambas is also an obsession among divers for its looming giants: whale sharks. This guide will help you how to spot and interact responsibly around these gentle leviathans the next time you liveaboard to Anambas.
The hungry migrators
Whale sharks are migratory species—they are not supposed to stay in one place for prolonged periods of time. These usually solitary giants only come together in groups, for months, to feed on plankton-saturated waters. After that, they drift off to random directions—also one of the reasons why scientists find the whale sharks' migratory behavior quite elusive.

Spot the seawater nomads in large aggregation
In Anambas, you are lucky if you see one of them looming around in one of your dives on the first quarter of the year, but the most accurate time to spot these friendly critters in large aggregation is on their migration season between September and October.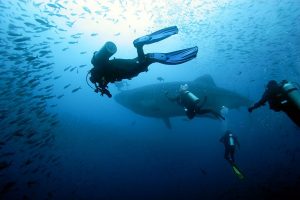 Codes of conduct when diving with the friendly beasts
These far-roaming animals are extremely curious and gentle. During your dive, they will likely to approach you for a close look—and it is tremendously difficult to reject their strong charisma—but before you do anything rash that may hurt you or the creature, try to consider this behavior guide when diving with the ocean's biggest fish:
Do not limit their normal movement. Make them feel free and unrestricted while they are feeding.
Do not touch, ride or chase the whale sharks. They are gentle beings, but they can also cause some injuries when danger is sensed.
You can take photos, but skip the flash or anything that will scare them away.
Do not use dive scooters/jet skis or any motorized propulsion around them.
All vessels should take caution when in the whale shark zone to avoid physically impacting them.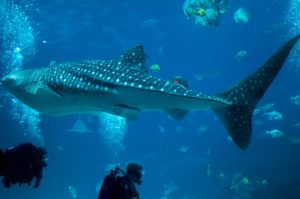 Save your spot onboard MV Nautica!